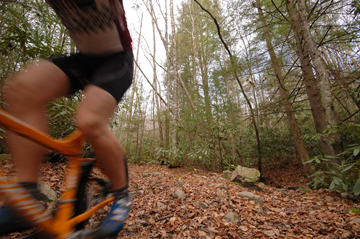 The Virginia Creeper Trail
The Virginia Creeper Trail Info is your best source for online information and services for Virginia's premiere mountain biking trail. If you are looking for bike rentals & bike shuttle services, food, lodging and specialty shops we have the best in the region. We will guide you to where you can find trail maps, trail advise, and trails as well as the current weather.

The Virginia Creeper Trail Region, which includes the small picturesque communities of Damascus, Abingdon, Whitetop, Konnarock, Green Cove, Taylors Valley, and Alvarado, has many wonderful attractions to offer and has become one of the most popular tourist destinations in the East. The Virginia Creeper Trail stretches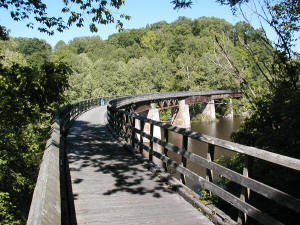 35 miles from Abingdon Virginia thru Damascus Virginia to the NC State Line near Whitetop Virginia. The Virginia Creeper Trail is open to hiking, mountain biking and horseback riding. This former rail bed passes through the highlands of Southwest Virginia. The Virginia Creeper Trail is rich in beauty and regional history. This is a biking adventure that you and your friends will talk about for a long time.
Located just a few miles north of North Carolina and Tennessee in the highlands of Virginia, this area, settled over 200 years ago by very adventurous folks, is still the perfect playground for anyone with an adventurous spirit. Today's visitors will find the most modern of amenities and the barest of necessities. Whether you want to take a casual bike ride down the Virginia Creeper Trail, dare hundreds of miles of single track, hike sections of the Appalachian Trail, camp out under the stars, or fish in some premier trout streams, Damascus is the place you want to start.
Virginia Creeper Tail information guide for visit to the Damascus and Abingdon Creeper Trail Adventure.
www.creepertrailinfo.com
Va Creeper Trail Bike Rentals, Shuttles, & Outdoor Shop
Full service Virginia Creeper Trail bike rental and shuttle company serving mountain bikers on the Virginia Creeper Trail, Iron Mountain Trail, and 76 TransAm route for sixteen years.
www.adventuredamascus.com

Damascus Cabins
Cabin rentals for Virginia Creeper Trail and Appalachian Trail visitors. Downtown Damascus on the Laurel River.
www.damascuscabins.com

Mojoes Trailside Coffeehouse
Open daily to get your mojo workin'. Located between Subway and Sundog Outfitter on the Virginia Creepertrail.
www.mojoestrailsidecoffee.com

Sundog Outfitter
We,ve got your gear! For all your hiking, biking, camping, and outdoor fun we have what you need. Shop in Damascus or online www.store.sundogoutfitter.com. Virginia Creeper Trail bike rentals Damascus, Abingdon, and Whitetop.
www.sundogoutfitter.com


Appalachian Trail Days Festival
Find out why thousands of hikers call Damascus, Virginia "the friendliest town on the trail"(Appalachian Trail). Visit Damascus and enjoy the fun.
www.traildaysinfo.com

The Earth Dog
Offering goods that are good for you and good for the earth.
www.theearthdog.com

Virginia Creeper Trail Map
Maps of the Virginia Creepert Trail, Appalachian Trail, Iron Mountain Trail, and many more. www.virginiacreepertrailmap.com
Va Creeper Trail Cottages
Creeper Trail in Damascus by River 4 Cottages Free Wireless Internet
www.creepercottage.com

Virginia Creeper Trail Bike Rentals
Rentals, Shuttles, and more.
www.vacreepertrail.com